Residential
Stainless steel for the residential sector
Individual needs vary, and Den-Mar can adapt its products to customer requests and requirements. Stainless steel goes anywhere, with anything, fitting in perfectly with such fine materials as wood, glass, granite, and ceramic.
Whether you want a handrail with stainless steel and wood or stainless steel and glass, an all–stainless steel range hood, or have an interior decoration project or idea all your own, Den-Mar can advise you, then complete your project meticulously and creatively.
Information request
Some of our creations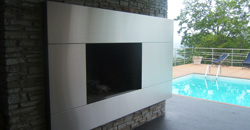 Stainless steel outdoor fireplace front
Warm up the ambiance on your deck with an outdoor fireplace. Den-Mar can develop built-in or freestanding models for any yard.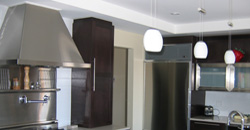 Stainless steel range hood
Den-Mar can add a contemporary touch to any kitchen. We'll refinish or update an existing range hood or create a new one.
Stainless steel handrails
Stainless steel suits any type of stairway and can be combined with any material. The perfect match!